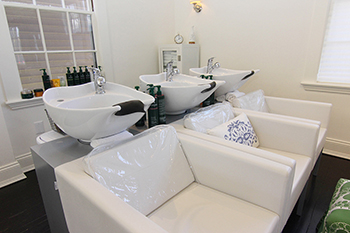 COLOR
Good colorists are artists. Like mixing paint, mixing perfect color takes a little of this and drop of that. It takes a trained eye and extensive knowledge of color to select the best shades that will complement your skin tone and look great in every light.
At DL Hairbar, we also want to make sure that your hair is healthy, nourished and glossy. We have selected the best products to minimize exposure to chemicals. Instead of foiling your hair every time you have regrowth, we instead "break the base" by using many shades and not foiling the hair as frequently, which your hair will love you for. We do not use dryers to bleach your hair and do not leave the bleach on for extensive periods of time. As a result, clients at DL Hairbar experience healthier, shinier hair.
One Process Color
Among our several color lines, our specialty is organic color, which means no ammonia and no chemicals for safe and healthy color. Nearly ten years ago, Debora was one of the first salons to embrace the organic color movement and one of the only salons on the North Shore to master the process of coloring your hair beautiful shades with great gray coverage and no side effects.
Prices starting at $85
Highlighting
Our highlighting services are all about multidimensional color. We use a mix of lighter shades and darker shades to create natural looking color, as well as glazes to protect the hair. Over time, our clients know their hair is healthier by the way it looks and feels. With our techniques, color is more interesting and more flattering on all shades of hair, dark or light.
Prices starting at $160
Color Gloss
Glosses are a form of wheat protein that penetrates your cuticle without peroxide and plumps up your hair strands. Like a facial for your hair, it leaves your locks looking shiny and feeling luxurious. Glosses are a great way to give your hair a little TLC and brighten your color.
Prices starting at $50